Senior Software Engineer. Credited on multiple titles including Halo and Gears of War. I've been in the British games industry for over 8 years.
Graduated from the University of Derby in 2013 with a first-class honours in Computer Games Programming BSc. Hons.
My dissertation paper was based on evaluating the feasibility of MCTS and FSM strategy based AI agents in stochastic environments. The agent was implemented in a simulated version of Ms. Pac-Man, which features enemy ghost characters that behave unpredictably at random intervals. You can read my dissertation here.
Big fan of most things relating to motorbikes. Recently have become obsessed with ECU hacking and electronic engineering.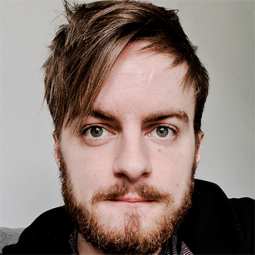 Website
This website makes use of the following technologies.
Docker
SilverStripe

A highly configurable content management system written in PHP.

PHP

A popular general-purpose scripting language that is especially suited to web development.

NGINX

A high performance web-server.

MariaDB

A persistent storage database solution based on MySQL.

Bootstrap

A feature-rich, modern, and robust CSS and JS framework used for developing stylish responsive web applications.

jQuery

A fast, small, and feature-rich JavaScript library.
Programming Languages
Find below a list of programming languages that I am familiar with, and the capacity in which I have used them.
C#
C# is a general-purpose, multi-paradigm programming language encompassing static typing, strong typing, lexically scoped, imperative, declarative, functional, generic, object-oriented, and component-oriented programming disciplines.
Career
NaturalMotion Games
Yakuto
Splash Damage
Ubisoft Future Games of London
C++
C++ is a general-purpose programming language created by Bjarne Stroustrup as an extension of the C programming language, or "C with Classes".
Career
NaturalMotion Games
Splash Damage
Python
Python is an interpreted, high-level and general-purpose programming language. Python's design philosophy emphasizes code readability with its notable use of significant whitespace.
Career
NaturalMotion Games
Yakuto
Splash Damage
UnrealScript
UnrealScript (often abbreviated to UScript) is Unreal Engine's native scripting language used for authoring game code and gameplay events before the release of Unreal Engine 4. The language was designed for simple, high-level game programming.
TypeScript
TypeScript is a programming language developed and maintained by Microsoft. It is a strict syntactical superset of JavaScript and adds optional static typing to the language. TypeScript is designed for the development of large applications and transcompiles to JavaScript.
Career
Yakuto
Splash Damage
JavaScript
JavaScript, often abbreviated as JS, is a programming language that conforms to the ECMAScript specification. JavaScript is high-level, often just-in-time compiled, and multi-paradigm. It has curly-bracket syntax, dynamic typing, prototype-based object-orientation, and first-class functions.
Career
Yakuto
Splash Damage
C
C is a general-purpose, procedural computer programming language supporting structured programming, lexical variable scope, and recursion, with a static type system. By design, C provides constructs that map efficiently to typical machine instructions.
C++/CLI
C++/CLI is a language specification created by Microsoft which supersedes Managed Extensions for C++. It is a complete revision that simplifies the now-deprecated Managed C++ syntax and provides interoperability with Microsoft .NET languages such as C#. C++/CLI was standardized by Ecma as ECMA-372.
PHP
A popular general-purpose scripting language that is especially suited to web development.
Bash
Bash is a Unix shell and command language written by Brian Fox for the GNU Project as a free software replacement for the Bourne shell. First released in 1989, it has been used as the default login shell for most Linux distributions.
Groovy
Apache Groovy is a Java-syntax-compatible object-oriented programming language for the Java platform. It is both a static and dynamic language with features similar to those of Python, Ruby, and Smalltalk.
Dockerfile
Docker can build images automatically by reading the instructions from a Dockerfile. A Dockerfile is a text document that contains all the commands a user could call on the command line to assemble an image. Using docker build users can create an automated build that executes several command-line instructions in succession.
Java
Java is a high-level, class-based, object-oriented programming language that is designed to have as few implementation dependencies as possible.